Kicking off the inaugural event of the four-stop Malibu Rider Experience tour, wakeboarders of all levels descended into Freedom Wake Park, in Orlando, Florida on May 10-12 for three days of high-end riding and education.
With a mission to teach individuals and help grow the sport on all levels, The World Wakeboard Association stepped up big time, as the producer and sanctioning body of the Rider Experience. The agenda was laid back, yet productive in a fun environment. And the newly opened Freedom Wake Park delivered great conditions and proved itself as one of the best new venues in the world for wakeboarding.
"Freeride Friday" set the tone for the Rider Experience as 30 riders took turns in groups shredding behind the Malibu WAKESETTER 22 MXZ, which is also the official towboat of the Red Bull Wake Open. Glassy water and good vibes led to a day of shredding that was fun to be a part of. Sessions were also held on land with WWA officials, Malibu pro team riders. The Judge's Experience explained what judges are looking for and how to create your best run in a contest. The Rider Development session explained the do's and don'ts of becoming a successful wakeboarder, including advice on many topics such as conduct and social media management.
19-year-old Danny Groves landed his first-ever tantrum to blind that day and was psyched on the experience. "It was nice to connect with people and converse with other riders throughout the whole weekend," Groves said. "I was super impressed with Malibu as a boat and fell in love with the wake behind the MXZ. After my first air, my eyes immediately lit up. Jimmy Trask taught me how to take my tantrum up higher and it was the best advice. Sticking my first tantrum to blind was the best feeling ever. I appreciate everyone on staff for lending their time to help me out. It went a long way." Look for an extended interview with Danny coming soon on malibuboats.com.
Saturday was competition day for all age divisions and a Pro Card qualifier for aspiring professionals to become recognized as a top competitive wakeboarder. Malibu Pro Team riders Brian Grubb, Amber Wing, Phil Soven and Dallas Friday were the judges. Dante Digangi killed it all weekend, and scored his Pro Card.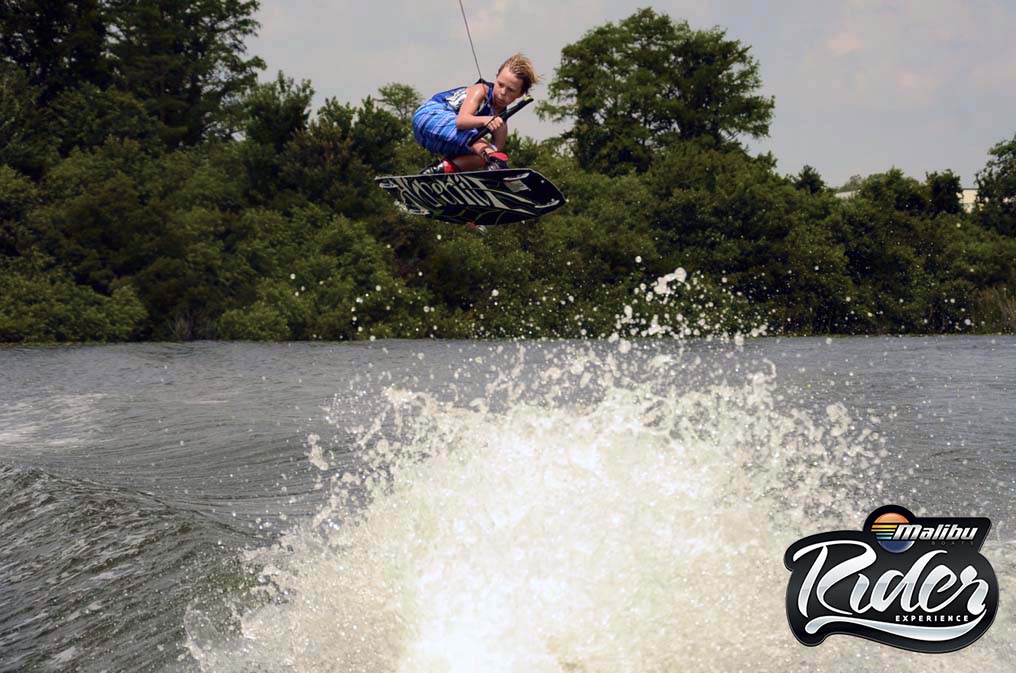 Overall, it was a progressive contest atmosphere, with each rider allowed two runs, keeping their best score. All riders also improved their seeding for events later in the year including the WWA Nationals and Worlds.
"SURF GATE Sunday" capped off the Rider Experience, with participants able to test out SURF GATE by Malibu, the revolutionary innovation allowing for wakesurfing on both sides of an evenly weighted WAKESETTER. Music was pumping through the Rockford Fosgate system on Brian Grubb's 22 MXZ and everyone was psyched to hang out and wind down with some slayshing. Special thanks to the WWA as well as Cobe and Tarah Mikacich of Freedom Wake Park for hosting an amazing event. Malibu Boats would also like to thank CTRL, CWB and Ronix for their support of the Rider Experience.
The next Malibu WWA Rider Experience will be held on June 7-9 at Mossdale Quarry Lakes in Lathrop, California hosted by Larson Marine. Go to http://wwariderexperience.com for more info and to register in the coming days.
Check out photo galleries from each day on the Malibu Boats Facebook page.
About the WWA
The World Wakeboard Association is the global leader in wake sport sanctioning. The WWA owns and operates the WWA Wakeboard World Series, WWA Wakeboard National Championships, WWA Wakeboard World Championships, WWA Wake Park National Championships, WWA Wake Park Triple Crown, WWA Wake Park World Series, WWA Wake Park World Championships, WWA Pro Card and WWA Rider Experience. With 27 affiliate countries worldwide, the WWA is the global leader in the sport of wake. The WWA is a rider-formed organization dedicated to promoting and growing wake sports worldwide. It is the leading source for riders, event organizers and competitive standards. For more information on the WWA and its events, check out www.thewwa.com