Lake Alfred, Fla. (May 18, 2015) – Tortilla Flat, Arizona played host to the first Malibu Rider Experience event of the 2015 season. This 3-day event brought in riders, families, and friends, to gather for a weekend of fun on the water in the Valley of the Sun.
Freeride Friday kicked off the weekend giving riders an opportunity to ride and hang out on and off the water with Malibu Pro team riders, Oli Derome, Chad Sharpe and Jeff Langley and fine tune their contest runs for the weekend.
"These weekends are always a lot of fun for me," said Sharpe. "Wakeboarding is truly a family sport and at the Malibu Rider Experience events we are able to meet and help riders of all ages and levels. It is always great to see how stoked the riders are after they come back from a great run."
More than 60 riders hit the water in front of a lively crowd on Saturday to begin the Regional Championships. Competitors of all ages battled it out to secure some of the first invites to the 2015 WWA National Championships. With 15 divisions this was the largest West Regional Championships in history.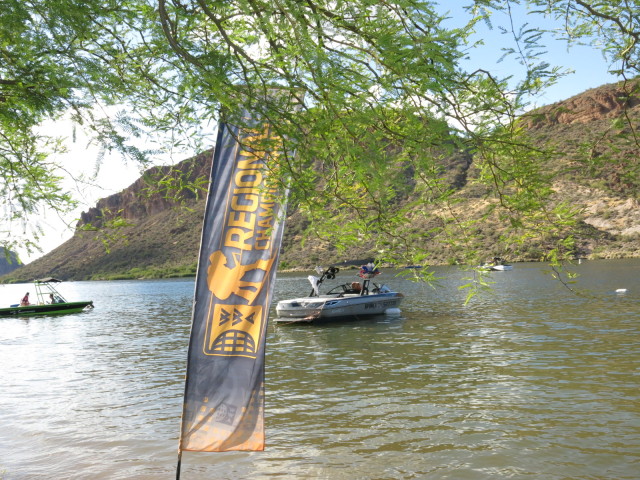 The Junior Pro division brought out a record number of riders from five different countries. With last years top two, Cory Teunissen and Parker Siegele aging out of the division, the top spot is up for grabs to the field full of talented young riders. After Mizuki Takahashi and Yun Sanghyun both layed down clean TS 900's in the semi finals, the finals were going to be one not to miss. For the finals, the water glassed out and everyone took to the shore to watch the finals go down. Yun Sanghyun had an unfortunate early fall in his run but impressively made up for it by getting back up and laying down two mobe 5's and a 900.   Lewy Watt put together a clean run with a heel 7, toe 9 and a clean nuclear tantrum to blind. Nic Rapa, top seed into the finals went out and put down a stand up run with a diverse run of spins and mobe 5's.
Seven West riders entered the Pro Card competition but after Robbie Culp of CA suffered an unfortunate dislocated shoulder during Freeeride Friday, leaving six riders competing to earn their Pro Rider title. At the end of the competition it was Ryan Platt who posted the best run to come out on top.
"Earning my Pro Card is why I came to the Malibu Rider Experience," said Platt. "These events give us a chance to experience more organized competition and get closer to our dreams of becoming pro riders."
Most of the West region's up and coming riders made the trip to Tortilla Flat to compete in the Jr. Men division. Andy Burch from California came back from a devastating leg injury to earn the win and punch his ticket to the National Championships.
The Men's Veteran's saw some fierce competition between a few seasoned locals and out of state competitors with Glen Coy from Arizona coming out on top in the division dubbed "We'll be sore tomorrow division."  The Masters men division had 7 entries including the long time rivals Luke Fournier of and Brett Morari with Luke taking the win. A combined Men's division had Chad Lowe of California taking the win over Jason Cramer of Arizona and Curtis Cummard from Arizona rounding out the top 3.
Winning his second Jr. Boys Beginner division title was Alex Albin of California, who won his second Jr. Boys Beginner division title while it was Alyssa Williams from Nevada taking the Jr. Woman's win over Lexi Gonzalas from California.
One of the most versatile riders on the water was Arizona native, Natalie Graham. "Graham Slam" who competed in all three women's divisions including Veterans Women, Women's Wakeskate and the Women's Wakesurf division.
The West Men's Rider Experience Wakesurf competition had a great showing with Jason Clark of California taking the win and Sam Palimbo of Nevada and Curtis Cummard taking his second third place podium of the event. In Women's wakesurf, Tami Cummard of Arizona took top honors in her first ever wakesurf competition beating out Gina Palumbo of Nevada and Graham in 3rd.
Saturday's competition wrapped up with a luau themed awards banquet and barbeque. All Boulder Boats, one of the best host of Rider Experience to date, with locations in both Nevada and Arizona provided the dinner and awards for the event.
To wrap up the weekend, SurfGate Sunday brought out family and friends of riders on the boat for a day of wakesurfing. Wakesurfers of all skill levels, including first timers got out and surfed behind the Malibu's 22MXZ's and Wakesetter 23 LSV boats.
Getting families out and participating, as part of a wakeboard event is very important to the WWA. These Malibu Rider Experience events are ultimate package when it comes to competition, family, and fun. Luckily, this was only the first stop, with four more locations to be excited for. Don't miss the next Malibu Rider Experience stop in your region. You could land yourself a spot in the WWA National Championships.
About Malibu
Malibu Boats is the world's largest manufacturer of watersports towboats, with a worldwide market share of more than 50 percent. Malibu sells the Wakesetter and Response models—as well as the Axis Wake Research brand—through a global dealer network. With some 450 employees and three manufacturing facilities, in California, Tennessee, and Australia, Malibu builds boats to help you live a #lifewithoutlimits on the water. [NASDAQ: MBUU]
@malibuboats  |  #evolutionproseries
About the WWA
The World Wakeboard Association is the global leader in wake sports sanctioning. The WWA owns and operates the WWA Wakeboard World Series, WWA Wake Park World Series, WWA Wakeboard National Championships, WWA Wake Park National Championships, WWA Wakeboard World Championships, WWA Wake Park World Championships, WWA Wake Park Triple Crown, WWA Pro Card and WWA Rider Experience. With 27 affiliate countries worldwide, the WWA is a rider-formed organization dedicated to promoting and growing wake sports worldwide. It is the primary source for riders, event organizers and competitive standards. For more information on the WWA and its events, check out www.thewwa.com