Malibu WWA Rider Experience South Invades Lake Lanier For Fun Filled Weekend
Lake Alfred, Fla. (May 18, 2015) – A slew of boats gathered in the waters of Lake Lanier in Buford, Georgia to watch riders at the Malibu WWA Rider Experience South throw down on some of the most challenging water conditions seen this season.
Freeride Friday gave riders a chance to hang out on the lake all day with some of Malibu's top pro athletes. The south region brought pros Dallas Friday, Phillip Soven, Massi Piffaretti, and Tarah Mikacich, of Freedom Wake Park, to help riders learn new tricks and dial in their contest pass. Freeride Friday is always a hit at the Rider Experience as riders have the opportunity to adjust and get a feel for their run for the South Regional Championships behind the Malibu 22 MXZ. Saturday brought riders from Florida, Georgia, Alabama, South Carolina, North Carolina, and Tennessee to earn their seeding in the WWA Wakeboard National Championships in August.
The turnout for Jr. Pro Men was great with the semis were stacked with talent and made for a good battle to the six-man final. Jason Soven, James Loisel and Nick Brown put up a great fight and kept the competition flowing between the riders, emerging some new faces to the podium. Yun Sanghyun of South Korea took the 3rd place finish with a clean nose grab crowmobe and toeside 720. Guenther Oka of USA went huge in some of the roughest water conditions, placing him in 2nd for his first podium finish in the Jr. Pro Men's division. Another new face to the podium, Cobe France of AUS, stomped a nose grab heelside 720 and Pete Rose to win it all in the South Regional Championships.
In the Jr. Pro Men Regional Rankings, Yun Sanghyun moves to first above the South Regional Champion Cobe France in second and Nic Rapa who is ranked third. With the top 3 riders only five points apart, the rest of the season will surely be a battle for the overall title.
Joel Schrader a Georgia rider and Vinny Knapp, a Singleton Marine Group team rider, battled out for the one Pro Card that was up for grabs. Vinny came out and stomped his run. He was stoked on being the next addition to the list of Pro Card holders.
Our first riders off the dock were in the Jr. Boys Beginner division where Sam Hinton and Zack Justice of Georgia, took 1st and 2nd place. Palmer Howell of Alabama, Jordan Wolfe of Georgia, and Regan Shanks of Georgia secured 1st, 2nd, and 3rd place podium finishes for the Jr. Girl's division. Cody Hunnicut of Tennessee and Jayden Asper of Georgia took the 1st and 2nd place awards for the Boys Beginner division followed by George-Henry Ewers of Georgia, taking 3rd in his first competition ever.
From the girls division, Hollie Waldrop continued her winning streak this weekend by stomping her run and taking home the 1st place trophy. Sarah Deary and Piper Harris of Florida weren't far behind in the Girl's division, taking home 2nd and 3rd place medals. North Carolina's Fynn Bullock landed a tantrum to blind putting him in 1st over Florida's Kevin Duffy and Hunter Henderson in the Boy's division. Jamie Lopina of Florida and Jenna Malcom of Georgia battled it out in the Jr. Women division landing Jamie on top and Jenna collecting the 2nd place medal. The Jr. Men division never proves to disappoint, with an eight man final. Dalton Purcell of Georgia took the 1st place win with Caleb Sentz of Georgia and Jesse Foushee of North Carolina rounding out the podium. Stacy Chrisman of Georgia landed her first competition scarecrow behind the Malibu MXZ walking away with a huge smile and a 2nd place finish under Morgan Crescent of Florida in the Amateur Women's division. The Men's division brought in riders from all different states with Benjaman Peters of Georgia and Hayes Akers of Ohio who took 2nd and 3rd place under Kentucky's Carson White who took home the trophy. Both Floridians Francisco Cabezas and Robert Schwartz, in the Master's division went home with 1st and 2nd place award.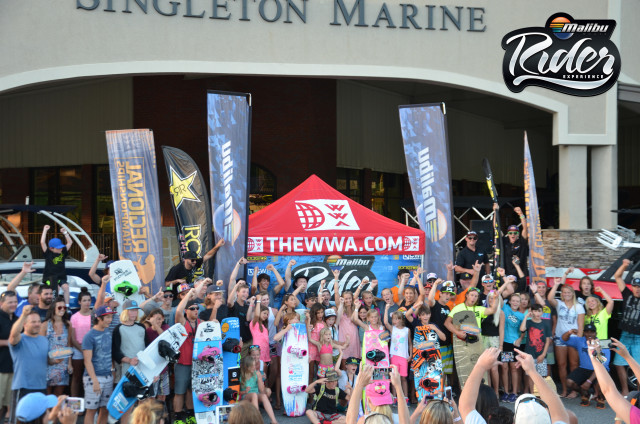 SurfGate Sunday wrapped up the weekend with some surfing on Malbu's endless waves. Singleton Marine provided their 22 MXZ along with NASA Surf Academy's 23 LSV for Sundays surf session. Everyone was pumped to demo the different Ronix wakesurfers. Families and friends came out to enjoy the last day of the weekend on the beautiful Lake Lanier Island. It's great to see wakesurfers of all skill levels out there shredding and having fun.
Thanks to Malibu Boats, Singleton Marine, Rockstar Energy, Billabong, Ronix, and CWB, the South Regional Championships was one for the books. The number of competitors was through the roof, making for a full and eventful weekend.
The next stop of the WWA Malibu Rider Experience heads to Longmont, Colorado to give the central region riders a chance to show their stuff and earn their invites to the WWA National Championships in their respective division.
About Malibu
Malibu Boats is the world's largest manufacturer of watersports towboats, with a worldwide market share of more than 50 percent. Malibu sells the Wakesetter and Response models—as well as the Axis Wake Research brand—through a global dealer network. With some 450 employees and three manufacturing facilities, in California, Tennessee, and Australia, Malibu builds boats to help you live a #lifewithoutlimits on the water.
@malibuboats  |  #evolutionproseries
About the WWA
The World Wakeboard Association is the global leader in wake sports sanctioning. The WWA owns and operates the WWA Wakeboard World Series, WWA Wake Park World Series, WWA Wakeboard National Championships, WWA Wake Park National Championships, WWA Wakeboard World Championships, WWA Wake Park World Championships, WWA Wake Park Triple Crown, WWA Pro Card and WWA Rider Experience. With 27 affiliate countries worldwide, the WWA is a rider-formed organization dedicated to promoting and growing wake sports worldwide. It is the primary source for riders, event organizers and competitive standards. For more information on the WWA and its events, check out www.thewwa.com