Lake Alfred, FL  |  February 12, 2014 – New locations and major additions highlight the second season of the Malibu WWA Rider Experience, designed for riders of all ages to learn, have fun, and elevate themselves both on and off the water.
The WWA and Malibu Boats are ecstatic for the return of this interactive and innovative event series, which is fun for the whole family. Several different aspects have been developed with one goal in mind: to help wakeboarders, wakeskaters, and wakesurfers become more involved and more knowledgeable about wake sports and their role as athletes.

This four-event series will continue to advance grassroots riding by including all amateur divisions. Wakesurfers will be psyched on the all-new Wakesurf division, and with changes to the Jr. Pro Men's division, 14–18-year-old wakeboarders will have their chance to shine. The Rider Experience is multifaceted, encompassing the WWA Regional Championships, Judge's Experience, Wakesurf Experience, and Freeride Friday. There will also be tons of free giveaways, T-shirts, and instruction from the world-class riders on Malibu's Pro Team. What more could you ask for?
While setting your goals for the summer of 2014, be sure to compete in the WWA Regional Championships. Part of the process of growing the sport of wakeboarding is the development of a true seeding system for riders to evolve their skills from event to event, and that's exactly what happens here. On top of crowning regional champions, each rider's placement will be used as seeding for the WWA National Championships.
Prize money and WWA travel scholarships will be awarded for the Jr. Pro Men's division as well as a competitive Wakesurf event as part of the WWA Regional Championships. Wakesurfers can expect to see a creative, progressive Wakesurf format developed with a focus on clarity, simplicity, and pure fun.
An overall WWA Regional Championship title for the Jr. Pro Men's division has been created in conjunction with the Pro Wakeboard Tour team. A total of $10,000 in prize money and an additional $5,000 total in travel scholarships (for the WWA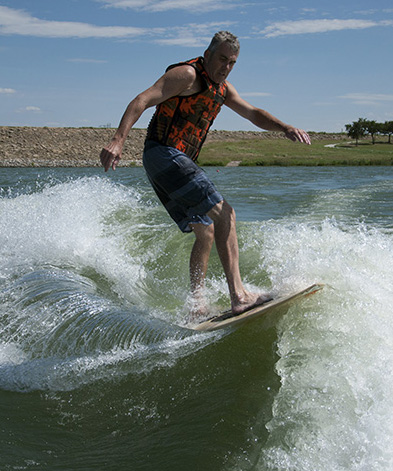 Nationals and Worlds) will be awarded to the top five overall in the Jr. Pro Men's division.
Freeride Friday is perfectly designed for beginners to advanced wakeboarders and wakeskaters, with top pro instruction and on-site practice time for the WWA Regional Championships. The Judge's Experience provides opportunity for all levels of riders, friends, parents, and fans off the water with WWA Officials. Everything will be covered for educational purposes, including the method in which WWA judges evaluate a contest run. The Wakesurf Experience brings the whole weekend to a close in a noncompetitive environment for anyone who wants to shred an amazing wave on either side of a Malibu WAKESETTER with SURF GATE®.
Open to all ages and all abilities, the Malibu WWA Rider Experience might just be your best memory of the 2014 summer.
For more, go to WWARiderExperience.com.
2014 Malibu WWA Rider Experience Locations:
(dates to be added soon)
South: Singleton Marine Group of Atlanta – Buford, Georgia
West: Larson Marine – Stockton, California
Central: TSR / Texas Malibu – New Braunfels, Texas
East: Munson Ski & Marine – Lakemoor, Illinois
About Malibu Boats
Malibu Boats is the world's largest manufacturer of watersports towboats. Malibu markets the RESPONSE, WAKESETTER, and RIDE models, as well as the Axis Wake Research brand, through a worldwide dealer network. With some 450 employees and manufacturing facilities in California, Tennessee, and Australia, Malibu builds boats to help you live a #LifeWithoutLimits. For more, visit MalibuBoats.com.
About the WWA
The World Wakeboard Association is the global leader in wake sports sanctioning. The WWA owns and operates the WWA Wakeboard World Series, WWA Wake Park World Series, WWA Wakeboard National Championships, WWA Wake Park National Championships, WWA Wakeboard World Championships, WWA Wake Park World Championships, WWA Wake Park Triple Crown,  WWA Pro Card and WWA Rider Experience. With 27 affiliate countries worldwide, the WWA is a rider-formed organization dedicated to promoting and growing wake sports worldwide. It is the leading source for riders, event organizers and competitive standards. For more information on the WWA and its events, check out www.thewwa.com